Excellent news for Leonie!
Excellent news for Leonie!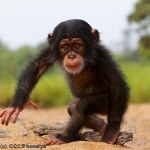 We have a great news to share with you!
Thanks to Mr. Arnaud Bennett, director of the PAL, a partner to the CCC, we got in touch with Dr. Karl Champeaux, a neurosurgeon currently working in the hospital in Strasbourg, France, who's agreed to come to the CCC to operate our little Leonie's head abscess at the end of September.
Léonie was confiscated by the Guinean authorities in Kindia, Guinea from a Guinean military who's bought her from a Sierra-Leonian military (hence her name "Leone" added to "ni", which means little in Malinke, the local language of the CCC's region).
When she arrived, she was really small (10 months to a year old) and really dehydrate. The most frightening of her condition was that her right leg and her right arm were almost paralyzed. Thanks to the first antibiotic treatment she recovered movement in her right leg fairly quickly. We also realized that she had a hole on top of head that was infected. After a week of treatment, pus started to come out of the hole in her head. She then recovered her mobility of her right arm.
Unfortunately, a month later, the infection came back. Despite a strong antibiotic treatment the abscess has continue to grow. The cranium bone is also infected. We had head X-ray taken in April to see if there was a bullet in her head since to capture a baby chimpanzee, hunters have to kill the mother and the babies are wounded (if they don't die) in the fall or with bullets.
We found out that her abscess is most likely due to a foreign object but there is no bulletin her brain. We've contacted veterinarians affiliated with PASA in order to find someone who would be confident and had the time, to perform a craniotomie but we haven't found anyone…We then started to contact neurosurgeons. After months of research we finally had a positive answer ! Thank you Dr. Champeaux !!!
Leonie's health status is stable but she eats less and hardly moves her arm since the abscess is now over 5cm2 and puts pressure on her brain. We'll do every thing to keep her healthy until her last chance surgery !
Your generosity will help us pay for Dr. Champeaux's plane ticket who's coming for free. We're hoping to collect 2,000 euros to pay for the surgery and post surgery expenses.
You can sponsor Leonie through our adopt a chimp program or donate directly on the website HERE
Thanks to all !