Name a chimpanzee baby!
Name a chimpanzee baby!
On behalf of Chimpanzee Conservation Center (CCC), Project Primate Inc. is happy to announce that we are auctioning the name of one of our baby chimpanzees*!  This beautiful little girl is the daughter of one of our chimpanzees, named Lottie, who was released back into the wild in 2008.  The CCC rehabilitates orphaned chimpanzees who are victims of the bushmeat or pet trade and strives to protect Guinea's remaining wild chimpanzee populations through public education and government engagement.  The CCC is one of only two projects that have successfully released rehabilitated chimpanzees into the wild and attributes its success to an amazing rehabilitation process.   Project Primate Inc (PPI) is an association that exist to support the CCC.  PPI is a is a registered 501c (3)based in the United States.
What the top bidder receives:
·         Authentic baby chimpanzee handprint
·         Birth certificate with the chosen name of the chimpanzee
·         The Lily Chimpanzee totebag
 A little more about Lottie:
Lottie came to the sanctuary as an orphaned baby in 1997. Her rehabilitation included daily bushwalks while learning about the forest with other orphans.  When Lottie was a young chimp at the sanctuary she was known for her sweet yet sometimes defiant personality.   Her closest friend was and still is Mama, a female around the same age.  When they were teenagers out on bushwalks these two troublemakers would sneak off into the forest on their own to find wild fruits and get into who knows what kind of mischief only to return at the very last hour of the walk looking fairly guilty.
Lottie's first pregnancy was at the sanctuary and was an accident, as it is the CCC policy not to breed in captivity in order to keep space and resources for the orph*ans.  She gave birth to a healthy male named Andrew who was adored by all the males and females of their group.  Mama served as an auntie to her best friend's son as Lottie always trusted her to take care of Andrew.
Lottie and Andrew were released into the wild with Mama in 2008 and though Andrew is no longer with the group Lottie and Mama are still together.  It is great to see such a strong friendship stay together during hardships as well as watch the triumph of two wonderful friends being mums together, in the wild.  We continue to monitor the group, which is located on the other side of the Niger River in the Haut-Niger National Park, and occasionally see them along the riverbanks.    
The newest member in Lottie's family is this adorable little girl.  She holds on tight to her mom and looks happy and healthy.  Lottie grooms her and plays with her as she lays on her back lifting the baby into the sky as they play airplane and tickle.  We are so excited to have this newest member join our release group.  Lottie's baby represents what we would want for all chimpanzees, a life born in the wild where she is can live a full and happy life.  Please support us today by bidding on the name this baby chimpanzee here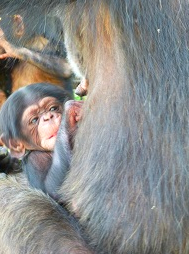 *Inappropriate and/or offensive names will not be accepted.