Dan's appeal
Dan's appeal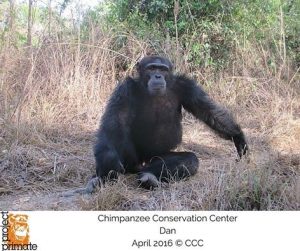 "We live in a forgotten country, Guinea (Conakry), where there has never been war (maybe some civil unrests making short media appearance in the West), huge climatic cataclysm, nothing really interesting for the outside world…Our country only cared for millions of refugees during the civil wars in Sierra-Leone and Liberia. But nobody knew it…Our country gets the second bauxite stock and that's why several big foreign mining companies are sharing these resources, which do not benefit the people of our country. They are destroying our beautiful land because the World needs our resources…
We live in the middle of the beautiful Haut-Niger National Park that nobody knows even if it is home for some of our wild conspecifics and other beautiful animals like lions, leopards, black and white colobus… We live in a Center where good people take good care of us after we were all rescued from a life of suffering…they offer us a good life, we live in social groups, we receive every day the food we need, the care we need, we enjoy life in the forest in daily outings for the youngest of us and in large enclosure for the oldest ones…Some of our friends even went back into the wild thanks to our human friends!
But not so many people know about this sanctuary, thought these people need your help to be able to help us.
We are survivors among a beautiful species, your closest cousins, who are disappearing day after day.
Would you help us? Would you help these great people who are staying day after day, night after night, by our side to take good care of us? Would you help them to educate more people of our country so they will protect our beautiful lands and its remarkable fauna and flora? Would you help them to protect this beautiful National Park?
Please, help them to help us. We need your support to survive. And to live."
Dan and all his friends
Article written by Christelle Colin, CCC director