Choose your chimpanzee ambassador and make your payment by Paypal choosing the name of the chimpanzee that you want or contact-us.
Zoé arrived at CCC as an adult after more than 10 years in Conakry, the capital of Guinea, with expatriates. Bought as a baby on a market, Zoé did not know her chimpanzee fellows and did not know how to communicate. Her adaptation was slow as she had to relearn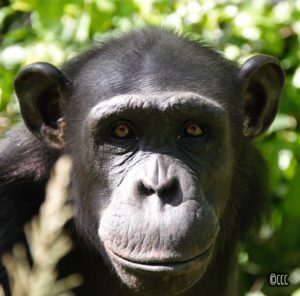 Leonie arrived on December 14, 2011. Leonie came from Sierra Leone, a country bordering Guinea, hence her name. A Sierra Leonean soldier had purchased her from a poacher and planned to resell her to a Guinean soldier. An official from Waters and Forests Guinea 
Kanda arrived at CCC in November 2015. In Malinke, the local language, Kanda means "protected". We're hoping his name will bring him better luck than he's had so far. The organization GALF (part of the EAGLE network) seized both Kanda and Soumba (a female who arrived around the same time than Kanda) during an anti-poaching operation.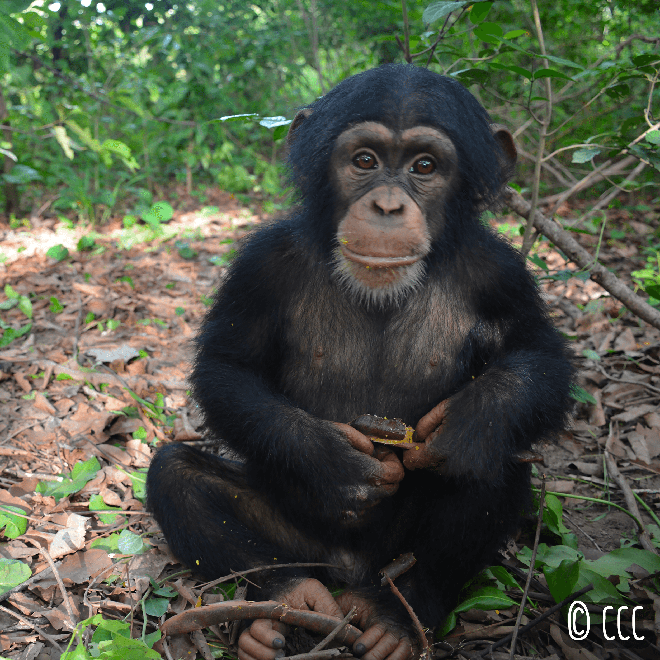 Kanda is a very happy baby, with a love for life, and who loves the sound of his own voice. Today is his the youngest of the "nursery" group. He still asks a lot of attention from the keepers but that doesn't stop him from sometimes doing displays.
Like many of the chimps at the CCC Missy has had a difficult start in life. Poachers shot her mother and Missy underwent the traumatic experience of seeing her mother killed before being torn away from her lifeless body. She was taken to a town in Liberia to be sold as a pet. An expatriate discovered Missy and alerted the CCC.
Our Neighbor Ape organization in Senegal, rescued infant chimpanzee Toto after his mother died of snakebite & no other group members found him. Toto was 2 months old at the time & wouldn't have been able to survive on his own. He was cared for on site for over 3 years. 
He's now a big boy and it was become urgent to find him a place in a sanctuary. Jill Pruez and Janis Carter approached the CCC and we agreed to take him in.
N'Dama was rescued by police & GALF operation in Guinea, Koundara. She was meant for chinese market for pet trade. During this operation 2 other chimpanzees were rescuded, Baïlo & Sam (also at the CCC). N'dama comes from the name of the protected forest that was near the place from which she was rescued. 
When she arrived she was full of life and laughter.
After an awareness campaign by the CCC, in the city of Faranah, the owner of Duma introduced himself to the team. He had purchased Duma in Sierra Leone a few months before to "save" him from his poor conditions of captivity. But you should know, buying a chimpanzee only endorses the trafficking of these primates.