Many primates, including chimpanzees, are disappearing because of deforestation. But this is not the only reason. In Guinea, the poaching of chimpanzees to sell the babies as pets is accelerating their disappearance dangerously. The CCC is actively fighting against all threats to chimpanzees, and you too can help us in your daily life.
Chimpanzees are an endangered and protected species. It is forbidden to: kill, capture, possess, sell, buy, or eat a chimpanzee.
Chimpanzees are poached for :
selling babies as pets.

Meat: To get babies, adults are killed, and are subsequently eaten or sold as bushmeat.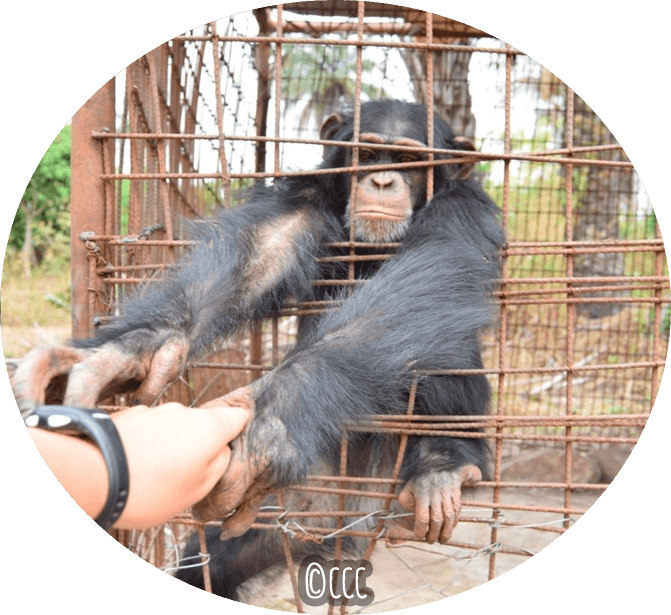 Raising awareness in schools, towns and villages about environmental conservation and protection.
Taking in chimpanzees seized by the authorities and rehabilitating them for life in the wild. We collaborate with local authorities in certain rescue operations.
Acting as a civil party in the trials of poachers arrested for possesing chimpanzees.
Study on the consumption of bushmeat in the markets.
Do not distribute and report photos of "humanised" chimpanzees (wearing clothes, in a house…).

 
When travelling abroad :
Do not eat "exotic" or "bush" meat (which may come from a poached animal)
Do not pay to take your photo with a captive exotic animal (which has often been captured from the wild).
THE DESTRUCTION OF THEIR HABITAT
The destruction of chimpanzee habitat can be caused by :
Timber or mineral exploitation


Clearing of forest to cultivate land or build houses.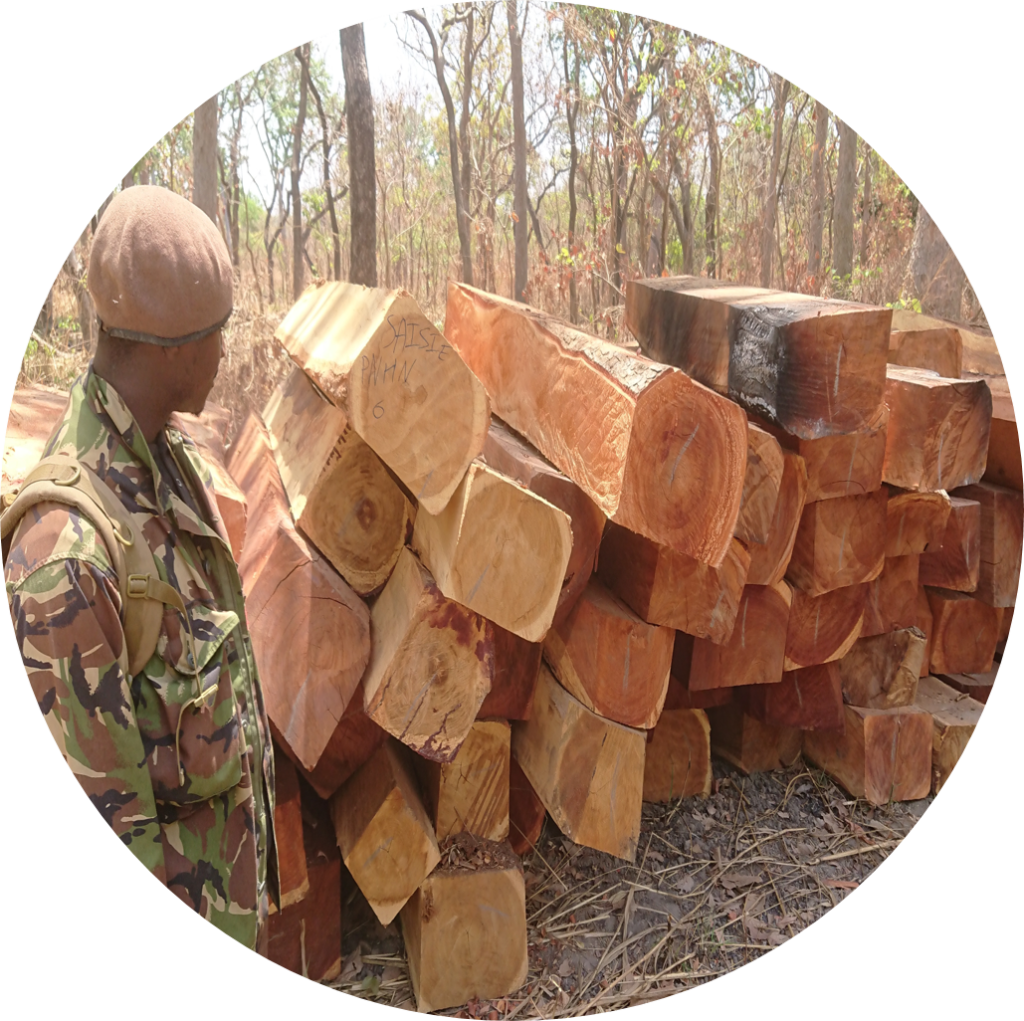 Raises awareness in local villages to prevent the risks of deforestation and intensive exploitation of natural resources.
Community development: setting up projects in the local villages that aim to provide environmentally sustainable development and opportunity to the population.
We work hand in hand with eco-guards to combat poaching and illegal logging in the Haut Niger National Park.
Check the origin of wood that you buy. The FSC and PEFC certifications guarantee sustainable farming of wood, having less impact on the environment.
Reduce the number of electronic devices in your home and the frequency of their purchase. Favour the purchase of refurbished or second-hand devices and recycle your device when you no longer need it.
DID YOU KNOW?
1/3 of the world's bauxite resources are found in Guinea. It is used to make aluminium, which is present in our electronic devices (telephone, computer, etc).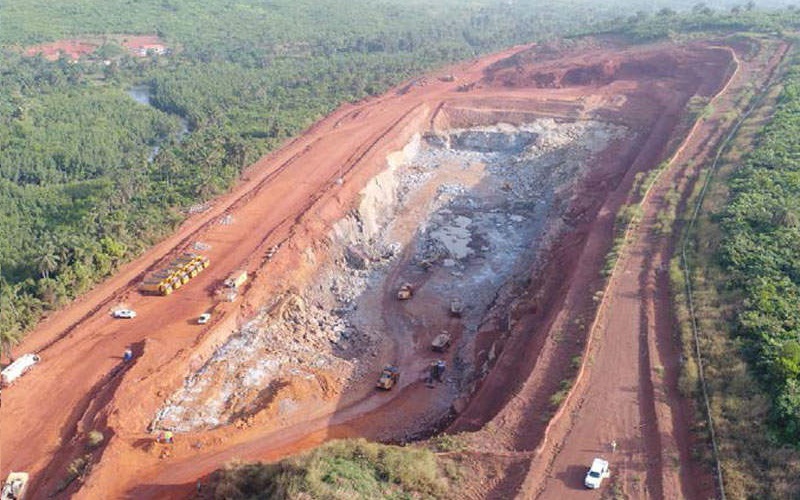 DISEASES, PESTICIDES, TRAPS
Disease: Chimpanzees share 98.4% of their DNA with humans, making them susceptible to human diseases. The reduction of chimpanzee habitat and human expansion increases the risk of disease transmission.


Pesticides: their use on crops near chimpanzee territory has an impact on their health.


Traps: "snares", although often laid to capture other species, are dangerous for chimpanzees that get caught in them, often causing the loss of limbs or death.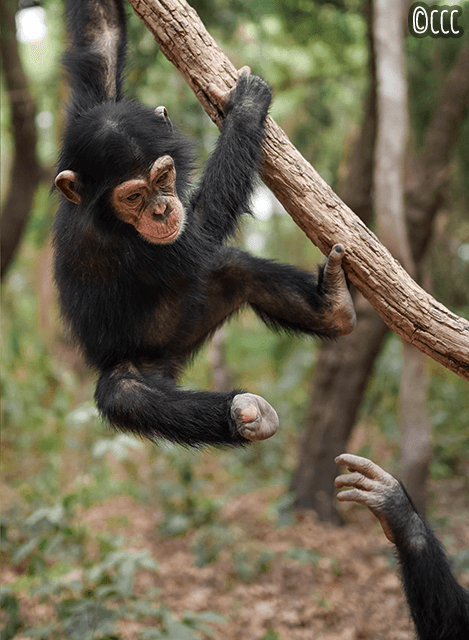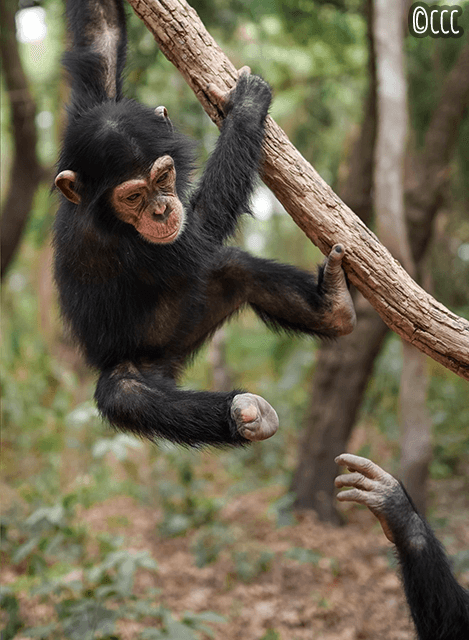 Image of Kade: One of our baby chimpanzees arrived with part of her foot missing, probably from getting caught in a snare.
We study and monitor the health and size of wild populations of chimpanzees in the Upper Niger National Park using automatically triggered remote cameras (camera traps).

Pesticides and traps have little impact on the chimpanzee population in Guinea, as they do not correspond to local hunting and farming methods. Chimpanzees living in East Africa, on the other hand, are severely affected by these methods.
You can have a real impact on all of these factors by supporting the associations that are fighting on the ground:
by giving them more visibility on social networks by sharing their news and posts, and telling your friends and family about their projects.
by becoming an eco-volunteer or by joining an association.
by using the "Lilo" search engine. Click here (in french)
by respecting the health and safety guidlines during an eco-tourism excursion to observe chimpanzees in the wild.

   

by making a donation or sponsoring a chimpanzee.