Sponsor Léonie
Sponsor Léonie
Thank you so much for your generosity.
Your gift means a lot because it directly contributes to the daily care of the orphans (milk, food, medicine, etc.). You are now a part of our wonderful family of sponsors!
Download your adoption certificate
You will soon receive an adoption card and your tax receipt, in addition to regular news of your adopted chimpanzee and other news from the Chimpanzee Conservation Center.
Caution: Please copy and save the address in your browser if you want to return to this page in the future.
Léonie
---
Léonie was born in 2011 and arrived at the Chimpanzee Conservation Center that same year on December 14th. Her voyage to the Center was long and dangerous and began when a soldier from neighboring Sierra Leone purchased her from a poacher and then sold her to a Guinean soldier. When a Guinean Water & Forest Agent came upon Léonie, he was able to stop the soldier from illegally selling her and brought her to safety at the Center.
When she arrived, she was very small for her age (only 7 ½ pounds or 3.5 kg) and presented with multiple injuries. (Her name, Léonie comes from the local dialect, Malinke, in which the "ni" at the end of a word means young/small). Staff found wounds on her head, shrapnel under the skin of her left cheek and observed that she had trouble moving her right and left legs. In fact, the right side of her body was almost completely paralyzed and an abscess began to form under the wound in her skull requiring surgical treatment. Arnaud Bennet, Director of PAL and Dr. Karl Champeux, a neurosurgeon at the CHRU in Strasburg traveled to Guinea to operate on little Leonie. The operation on her wound was a success and they were able to remove the shrapnel from her cheek and a section of infected bone from her skull. Between the compassionate care provided to Léonie from day one and the lifesaving surgery, she has regained almost all mobility in her arms and legs and her energy is seemingly boundless!
She will stay in quarantine in the volunteers' camp while she grows up and becomes better suited to integrate into a group. She's a true fighter with a survivor's personality; unafraid to voice her objections if she isn't carried to her specifications by her handler. She is one of the smallest chimpanzees ever recovered by the Center and is now a symbol of the work we do; playing with other chimpanzees and climbing trees.
Update: since her arrival, she has been successfully integrated with N'dama, one of three chimpanzees to arrive in October, becoming best friends with the orphan.
Léonie plays (before the operating) :
[stream provider=video base=x:/www.projetprimates.com/wp-content/uploads/parrainage/ flv=Leonie1.flv img=Leoniev1.jpg embed=false share=false width=640 height=360 dock=true controlbar=over bandwidth=high autostart=false /]
Download
Léonie after the operating :
[stream provider=video base=x:/www.projetprimates.com/wp-content/uploads/parrainage/ flv=Leonie2.flv img=Leoniev2.jpg embed=false share=false width=640 height=360 dock=true controlbar=over bandwidth=high autostart=false /]
Download
In this video, you can see how healthy and happy Léonie is today planning with her friend N'Dama! (Leonie is on the far left at the beginning of the video. If you look closely, you'll see some hair loss on the left side of her head where she had brain surgery.)
Léonie wallpaper
---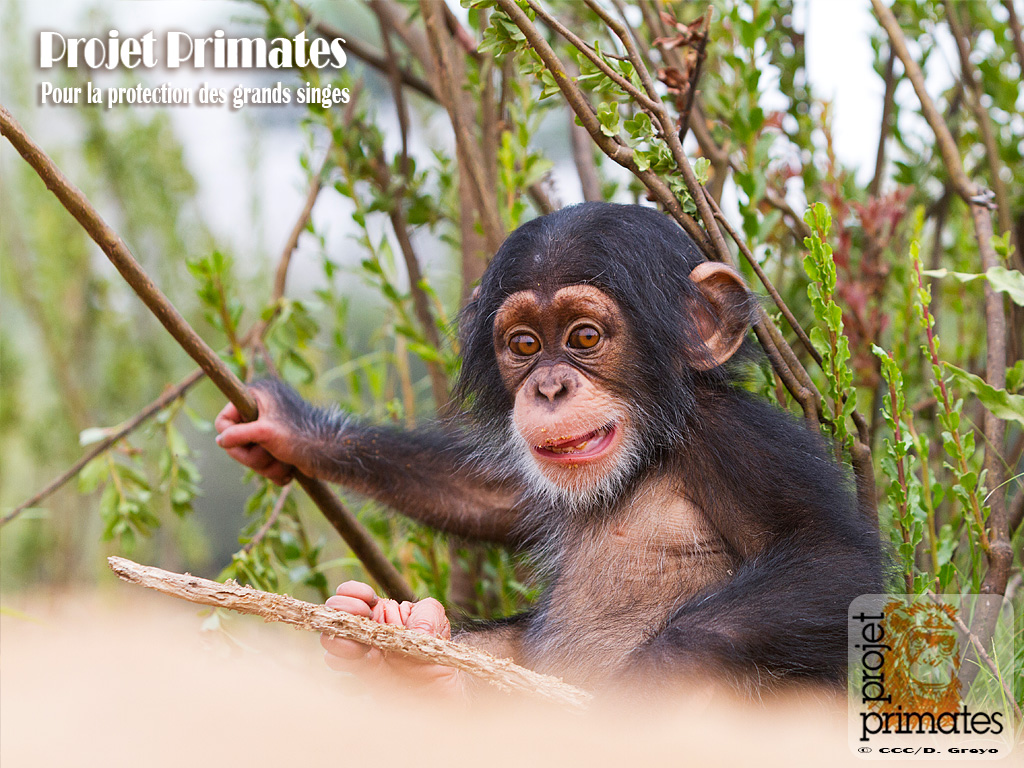 Choose size (Right-click)